New York Yankees manager Aaron Boone was ejected yet again Sunday against the Cincinnati Reds, but his argument may have been justified.
It was the bottom of the first inning at Great American Ball Park in Cincinnati when rookie outfielder Jake Bauers had trouble trying to catch a ball down the right-field line while running. He slid and made contact with the ball, but first base umpire Néstor Ceja called the ball a foul.
Reds infielder Jonathan India was on first base when the ball was hit and, with two outs, was reserving it around the bases in a scoring attempt. India ended up crossing home plate, but with the foul ball called, he had to return to first base.
CLICK HERE FOR MORE SPORTS COVERAGE ON FOXNEWS.COM
However, the Reds contested the ruling on the field, and it was determined that Bauers made contact with the ball in fair territory, meaning the ball was in play.
Boone was not discussing that fact, but rather crew chief Brian O'Nora's decision that India could score, giving the Reds an early 1–0 lead. Spencer Steer, who hit the ball, received an RBI while driving to second base with a double.
YANKEES' AARON HICKS DESIGNATED FOR ASSIGNMENT: 'I HAVE TO GO TO THE NEXT CHAPTER'
The Yankees skipper was quick to leave the dugout to argue with the umpire team, and O'Nora was quick to spin outside and throw his hand in the air for the ejection. Managers aren't allowed to discuss replay decisions, overturned or not, so Boone's firing would come no matter what he said.
But he certainly got his money's worth in the 29th ejection of his career.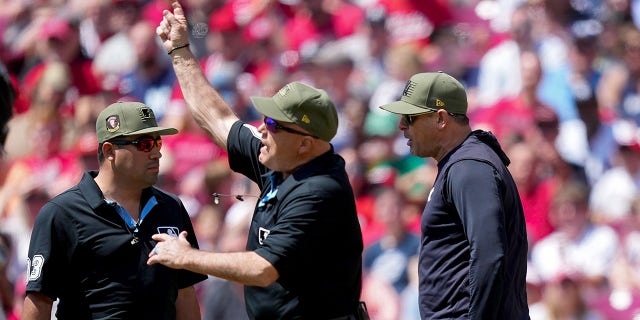 He was also ejected in the earlier series with the Toronto Blue Jays for arguing balls and strikes in what became a controversial Aaron Judge at-bat.
Ultimately, the Yankees were able to overcome the early deficit, sweeping the Reds to win their fourth straight game.
It was also Luis Severino's first start of the season, going 4.2 innings with just that run allowed on four hits. He struck out five batters while walking just one.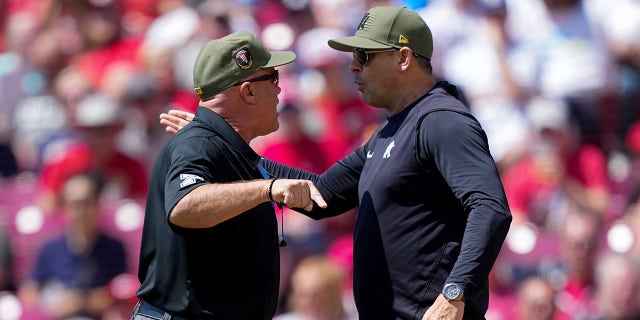 CLICK HERE TO GET THE FOX NEWS APP
Albert Abreu, Jimmy Cordero, Wandy Peralta and Clay Holmes all came out of the bullpen and didn't allow a run. Abreu, Cordero and Peralta did not give up a hit either.