There's a reason an athletic 7-foot-5 monster of nature was the first overall pick in the NBA Draft.
The San Antonio Spurs selected Victor Wembanyama at No. 1 last month.
Combining his height with his elite shooting prowess and defense, he is seen as the best prospect in the league since LeBron James.
The 19-year-old played professionally in a league in his native France that he thought was more physical than the NBA.
CLICK HERE FOR MORE SPORTS COVERAGE ON FOXNEWS.COM
«The court is more open. It goes fast, but it is less physical», Wembanyama said after their second and final NBA Summer League game. «They foul me a lot, but not that much. Here, the players fly [around]. Outside, it's more on the ground, pushing on the ground, big box outs.
«There are great athletes here, the best in the world, much more talent. But I like this better.»
Wembanyama has yet to play in an NBA game that counts, and he was pulled from Las Vegas by the Spurs after just a couple of games. His next action will not be until the preseason in a couple of months.
He struggled in his Summer League debut, shooting just 2-of-13 from the field for nine points, but he showed why he's so hyped his next time on the court.
In an 85-80 loss on Sunday against the Portland Trail Blazers, he had 27 points and 12 rebounds.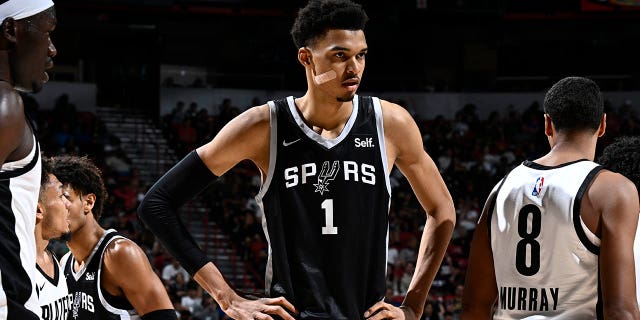 The Spurs said Monday they've seen everything they need to see from the No. 1 pick in this year's draft and won't play him for the remaining games in Las Vegas.
BRITNEY SPEARS RIPS UNIDENTIFIED RADIO STATION ON ALLEGED SLAP REMARKS: 'NO WOMAN DESERVES TO BE BEATEN'
The closure was not a surprise. The Spurs never planned for Wembanyama to play the entire Summer League, and now they will have a chance to look at other players.
«I'll sit down with Spurs to find out what the next few months will be like,» Wembanyama said on Sunday night after what became his summer finale. «When to go on vacation, when to exercise again, where am I going to practice, in San Antonio or somewhere else. I just know that I have two or three months, two or three great months, coming up, and they are going to change my life. «.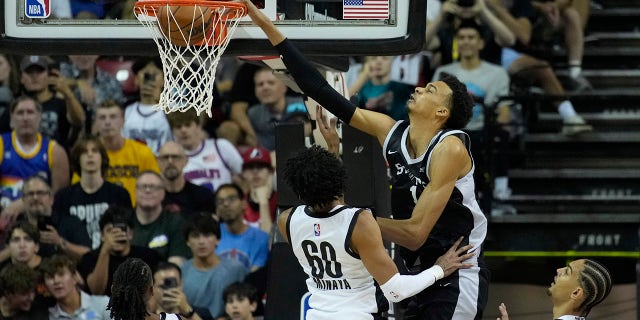 Wembanyama is also taking a social media break after a recent incident between his security and Britney Spears. A security guard was accused of hitting the pop star. However, Las Vegas police said they would not press charges after they said security footage showed the security guard shoving Spears' «gambler's hand» without looking, causing Britney's hand to slam into face.
CLICK HERE TO GET THE FOX NEWS APP
Wembanyama was a two-time LNB All-Star in France and the league MVP last season. The LNB is the highest category of professional basketball in the country.