March Madness is still easy for UConn.
The fourth-seeded Huskies dominated their Elite 8 matchup against No. 3 Gonzaga, 82-54 and earned another trip to the Final Four in Houston.
It's the school's sixth Final Four in history and first since 2014: They're 4-1 in the national semifinals. This is also their first tournament since the 2015-16 season.
The men came to play after the Lady Huskies suffered a devastating loss at Ohio State several hours earlier — someone had to change the mood on campus.
CLICK HERE FOR MORE SPORTS COVERAGE ON FOXNEWS.COM
Up seven at the half, UConn scored five quick points to pull out a 12-point lead. Just 100 seconds into the second half, the Bulldogs were forced to sit out superstar Drew Timme as he fouled out four times. With Gonzaga's best player off the court, UConn took advantage and outscored them 14-3 in that span.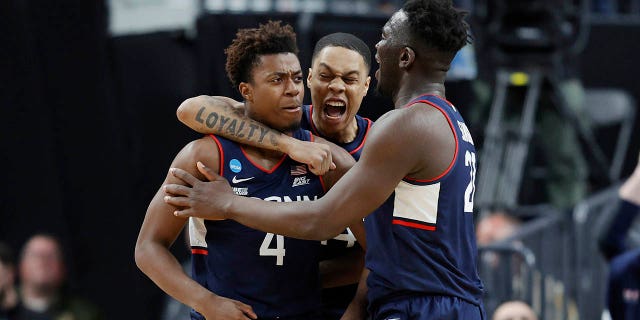 FLORIDA ATLANTIC CONTINUES THE CINDERELLA RUN AND SECURES A FINAL FOUR PLACE IN THE INSTANT CLASSIC OVER KANSAS STATE
Now 21 down, they had no choice but to bring Timme back onto the pitch, but it was too little too late. In fact, UConn's lead reached 23 points when it returned to the game.
In fact, UConn outscored Gonzaga, 43-22 in the last 20 minutes.
UConn has outscored their opponents 327-237 in the tournament, easily winning every game. This comes despite off-floor issues that included their original hotel rooms being filled with «dirt, vomit and worse» and having their belongings stolen from the team bus several hours later.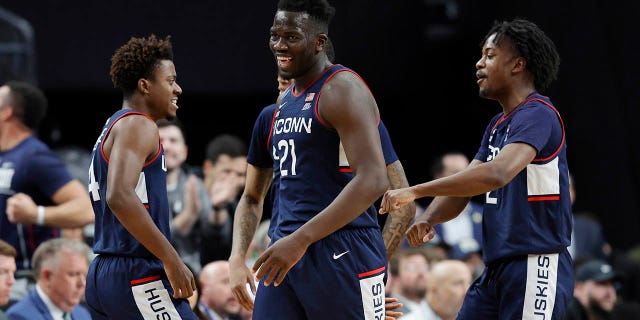 CLICK HERE TO GET THE FOX NEWS APP
The Huskies await the winner of No. 2 Texas, the highest-ranked remaining team, and No. 6 Miami.