Minnesota Twins manager Rocco Baldelli was ejected from Saturday's game after discussing a goo test.
After the top of the third inning, an umpire checked on Domingo Germán of the New York Yankees, which happens at the bottom of every inning. However, this check took longer than usual, but German was not found guilty of any offence.
However, when German came out for the fourth, all the referees collectively reviewed German in an exhaustive search. But once again, the German was cleared.
CLICK HERE FOR MORE SPORTS COVERAGE ON FOXNEWS.COM
However, referee James Hoye appeared to say that he «told him [German] clean [something] out», and they told Germán to wash his hands.
Baldelli came off the Twins dugout seeking an explanation, but his anger grew and he was ejected from the matinee.
German went on to strike out a career-high 11 batters in 6.1 innings of work while retiring the first 16 batters he faced in the Yanks' 6–1 win.
German turn rates were low after extensive verification, but minimally, which could be due to a number of factors ranging from a lack of substance, tiredness as the game progresses, or simply lack of execution of pitches.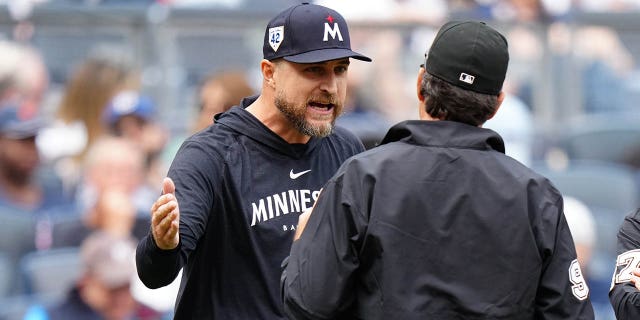 MLB REFEREE LEAVES HOSPITAL 2 DAYS AFTER TAKEN 89 MPH HEADSHOT
Yankees manager Aaron Boone said after the game that German had too much rosin on his hands and had put some on before he went on the mound, so the umpires told him to wash his hands.
Baldelli did not accuse Germán of using an illegal substancebut said that German should have been sent off, as he had been told to remove the rosin after the third, but still had it on when the fourth began.
Boone noted that German doesn't usually use rosin while on the mound, so when his hands felt sticky, he held up a flag for the umpires. He washed his hands after coming on the bench, but returned to the rosin bag before leaving for the fourth, which Baldelli disagreed with.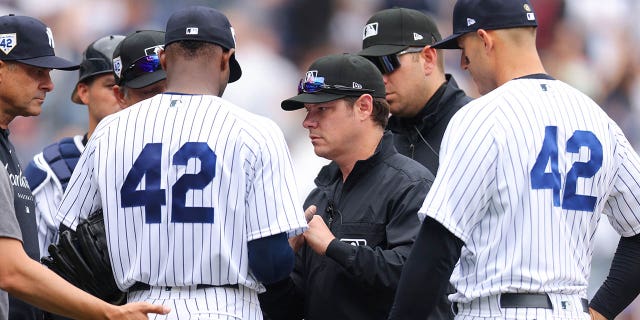 CLICK HERE TO GET THE FOX NEWS APP
It was the Yanks' first win in the four-game series after the Twins took the first two.