California's high school sports governing body came under fire Sunday after a transgender athlete finished second in the CIF North Shore Section Meet of Champions.
Athena Ryan finished second in the varsity girls' 1,600m final on Saturday. Sonoma Academy's Ryan finished behind Montgomery's Hanne Thomsen and ahead of Campolindo's Ellie Buckley. Ryan will advance to the California Interscholastic Federation (CIF) track and field state championships next week.
CLICK HERE FOR MORE SPORTS COVERAGE ON FOXNEWS.COM
The Independent Women's Sports Council noted Ryan's end on social media.
According to the WomenAreReal social media account, some women held up a banner at the gathering that read: «Protect women's sports.»
One woman told another woman holding the banner: «I find it offensive.» Another video showed security chasing the women holding the banner.
WARNING: EXPLICIT LANGUAGE
Ryan, a junior, appeared unfazed by the protests and controversy. Ryan finished with a time of 4:55.91.
NJ HIGH SCHOOL LACROSSE TEAMS SOLVE 3OT THRILLER WITH ROCK, PAPER, SCISSORS
«I didn't expect that. I'm down like 17 seconds from my season best in the last two weeks,» Ryan told MileSplit after the race. «After last weekend, I didn't think I'd be able to run under 5s again. I was just coming here trying to break 5s, glad I finished it.»
Ryan told the outlet that he was hoping to «have fun» at next week's event.
Ryan finished sixth in the 1,600-meter prelim and 21st in the women's 800-meter prelim.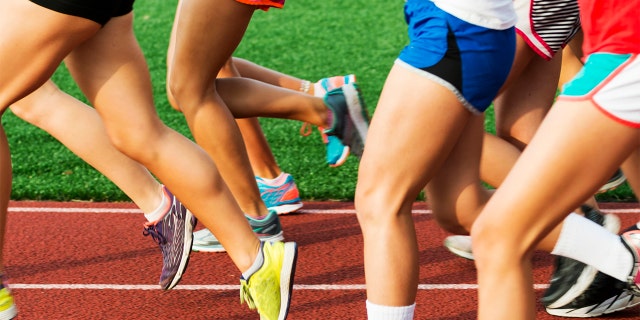 The CIF has a «Gender Diverse Youth Sports Inclusion Toolkit». One section describes «Gender Identity Participation.» The CIF has rules for «Gender Identity Participation» since 2013.
«All students must have the opportunity to participate in CIF sports and/or activities in a manner that is consistent with their gender identity. Currently, most sports programs are offered separately for boys and girls, as described in the CIF Bylaws 300.B. and C. ", says the section.
CLICK HERE TO GET THE FOX NEWS APP
«Athletes will participate in programs consistent with their gender identity or most consistently expressed gender. School personnel responsible for student eligibility will work collaboratively with the student-athlete to determine eligibility. Once granted the student eligibility to participate in the sport in accordance with his or her gender identity, eligibility is granted for the duration of the student's participation and need not be renewed each sport season or school year.»