The Oklahoma City Thunder used a second-half push to defeat the New Orleans Pelicans in the NBA play-in tournament, 123-118.
The Thunder will now face the Minnesota Timberwolves on Friday for a chance to clinch the eighth and final seed in the Western Conference for the first round of the NBA playoffs.
The game went back and forth late in the fourth quarter as both teams traded buckets to keep the game close. The Pelicans used an early streak in the fourth quarter, scoring seven straight points to pull within two, and held on near the end.
However, Shai Gilgeous-Alexander, the Thunder's biggest star, did what All-Stars do: get in on the action.
CLICK HERE FOR MORE SPORTS COVERAGE ON FOXNEWS.COM
Down by one, Gilgeous-Alexander took a transition pass after a miss by CJ McCollum and made an awkward driving layup to move up one with 28.1 seconds left.
PELICANS STAR ZION WILLIAMSON TALKS ABOUT HIS STRUGGLES WITH INJURIES: 'IT'S BEEN FRUSTRATING'
Brandon Ingram would miss the Pelicans' next possession, opening the door for OKC to save this one.
Josh Giddey and Lu Dort made clutch free throws, but Ingram redeemed himself by hitting a 3-pointer to cut the lead to one.
But it was Gilgeous-Alexander who froze him with the most free kicks to advance in the tournament.
Gilgeous-Alexander had just seven points at the half, but finished the game with 32 points to lead the Thunder in that category, shooting 11-of-22 from the field, including a perfect 8-of-8 from the charity strip with five rebounds and three assists.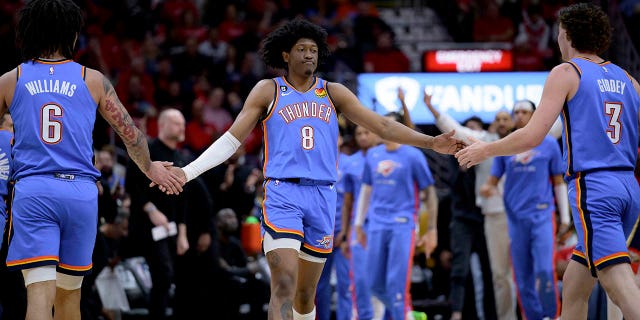 But he was not alone in achieving this victory, of course. Giddey stepped up with 31 points while grabbing nine rebounds and dishing out 10 assists as the 20-year-old was red hot in his first tryout of the postseason.
Dort was also a machine in the first half, dropping 20 points, 14 of which came in the first quarter. He finished the game with 27 points, including four 3-pointers.
NBA HALL OF FAME SAYS MAVERICKS 'MISSING A LEADER' AS DALLAS TRIES TO KEEP PLAYOFF HOPES ALIVE
For the Pelicans, Ingram was the leader with 30 points on 10-for-19 shooting from the field. But McCollum had a disappointing performance going just 5-of-15 shooting for 14 points.
Jonas Valanciunas had the perfect matchup in the paint, as the Thunder don't possess a true center on the roster right now. He had a double-double in the first half with 11 points and 12 rebounds.
But OKC was able to hold him off in the second half, at least on the points front. He finished with 16 points and 18 rebounds.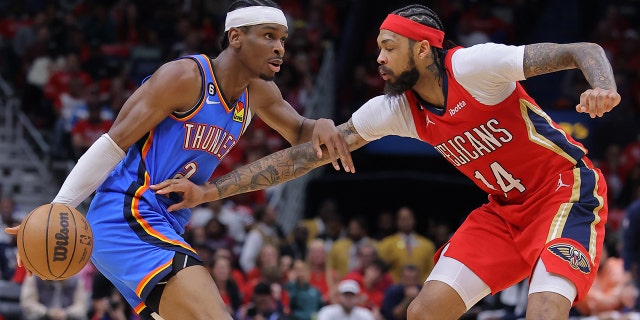 CLICK HERE TO GET THE FOX NEWS APP
Trey Murphy III had 21 points for New Orleans, while Herbert Jones also dropped 20 points.