The last season, made up of four episodes, will arrive on Netflix, specifically in the United States, on April 3, 2023.
On the air since 2019, Surviving R. Kelly has set out to expose the tangled history of the allegations against musician R. Kelly that led to his ultimate imprisonment in 2022. receiving 31 years for his crimes.
The series has been streaming on Netflix in the United States since 2019, but in 2022 there was a two-month period where the show departed. The show was initially available globally, but has since gone in most regions.
Netflix is ​​currently the streaming home (in the US) for the following Surviving R. Kelly series/specials, presented separately within the app:
Surviving R. Kelly (Season 1 – 6 episodes)
Surviving R. Kelly Part II: The Reckoning (Season 1 – 5 episodes)
Surviving R. Kelly: The Impact (2019)
A full third season of the show was announced in December 2022 and premiered across two days at Lifetime on January 2 and 3, 2023.
The final season of the series, also known as Surviving R. Kelly: The Final Chapterreviews the events of 2022, covers the trial itself, and features more interviews and expert testimony.
Nigel Bellis and Astral Finnie returned to direct all four episodes:
Episode 1 – Years in Development
Episode 2 – Taking a Stand
Episode 3 – John Doe #1
Episode 4 – The Final Verdict
As confirmed via the New & Hot section within the Netflix app, Netflix is ​​set to receive Surviving R. Kelly: Part III in full on April 3, 2023.
According to our investigation, no other region beyond the United States will receive the final season of the show.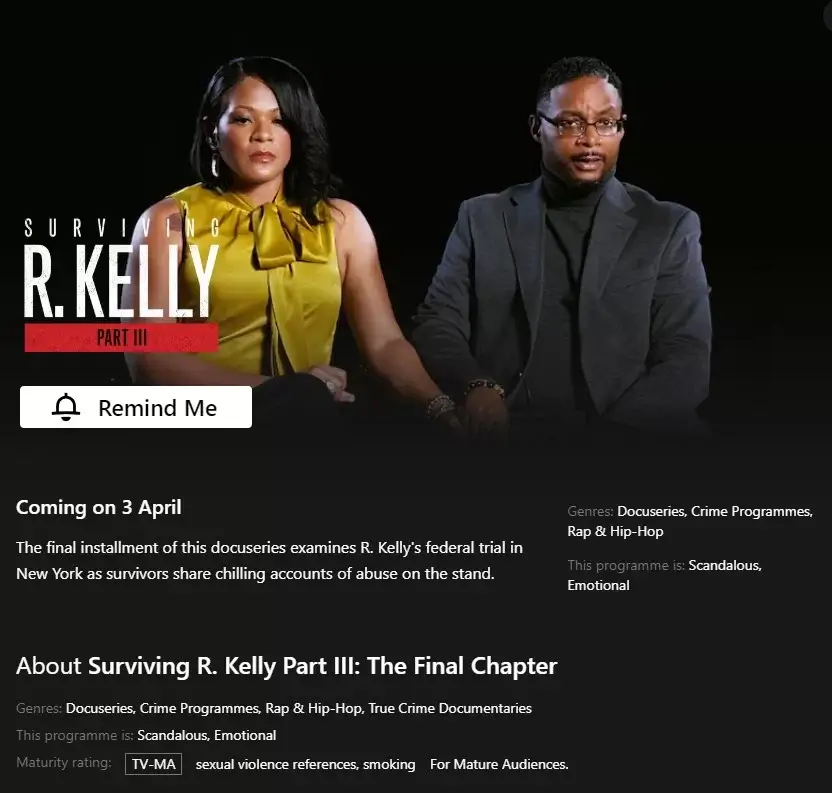 For more information on what's coming to Netflix in April 2023, keep an eye on our release schedule for the month here.
are you going to check Surviving R. Kelly: Part III on Netflix in April? Let us know in the comments below.