Saquon Barkley's contract dilemma with the New York Giants has reached a place feared by fans. He could sit out to start the season.
We've seen it done before by NFL stars who believe they're worth more than their organization has been offering in contract negotiations.
The fact that the running back market is at an all time low right now isn't helping Barkley's case with the Giants.
But he has proven to be one of the best in the game and a player the offense pivoted on under new head coach Brian Daboll last season.
CLICK HERE FOR MORE SPORTS COVERAGE ON FOXNEWS.COM
Barkley knows his price. The Giants know what they want to spend. They could not meet in the middle.
ESPN's Dianna Russini is hearing that Barkley's Week 1 availability is «in jeopardy» if a deal is not reached by Monday, which is the deadline when his $10.1 million franchise tag will be secured for the season. 2023.
The Giants and Barkley will have until 4 pm that day to work something out. Otherwise, Barkley will make a big decision about what to do for 2023.
GIANTS' DEXTER LAWRENCE SAYS SAQUON BARKLEY 'WILL GET WHAT HE DESERVES' AS CONTRACT TALKS LOOM
New York reportedly offered Barkley a deal that would have paid $14 million per season, but one report also mentioned that he was unhappy with the way the deal was structured.
Because of that, Barkley has been painted as greedy, which hasn't helped this offseason.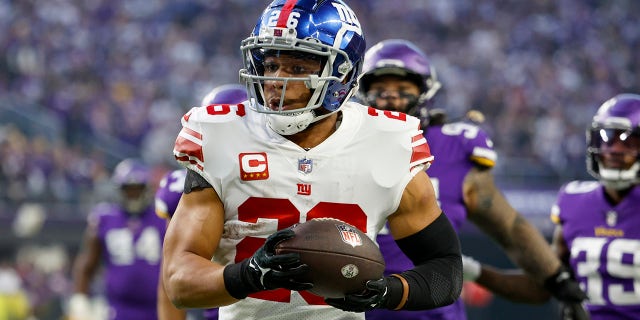 «I got tagged, were you upset about it? Nobody wants to be tagged,» Barkley told ESPN in June. «Sitting here and saying I was frustrated, angry, upset… What really bothered me was the stories that were leaked, how misleading they were and how untrue they were.
«I feel like he was trying to paint a narrative of me, a picture of me, that's not even true. It's not even close to being the truth.»
Barkley finished with 1,312 rushing yards last season, good for fourth in the NFL, with a total of 10 rushing touchdowns.
Daniel Jones, who signed a four-year deal this offseason that locks him in as the team's franchise quarterback, completed 57 passes to Barkley, tied for the team lead in 2022.
The two were also seen working together this offseason, suggesting that Barkley still wants to build a relationship with Jones.
Dexter Lawrence, who pocketed $90 million in his extension this offseason, thinks Barkley will be worth every penny.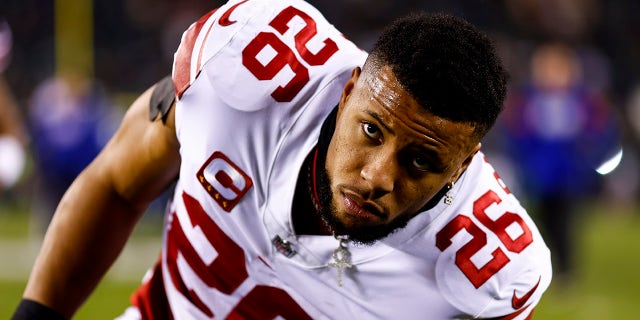 «I think Saquon will get what he deserves,» Lawrence told reporters last month after signing his new contract. «He's a great player, he's a great leader for us. One of the best players on the team. I'm excited to see what he has in store for him.»
Barkley said he will consider sitting out if a long-term deal is not reached by Monday.
CLICK HERE TO GET THE FOX NEWS APP
Time is ticking in East Rutherford.