The Baltimore Ravens were within yards of tying Sunday night's AFC wild-card game against the Cincinnati Bengals, but both of their chances fell short.
Tyler Huntley had thrown a 41-yard touchdown pass to Demarcus Robinson to tie the game late in the third quarter. And, after Baltimore's defense forced Cincinnati to punt on the ensuing drive, Huntley put the Ravens back in scoring position when he ran for 35 yards.
CLICK HERE FOR MORE SPORTS COVERAGE ON FOXNEWS.COM
But at the 2-yard line, Huntley's attempt to get over the pile and put the Ravens ahead was met with Bengals linebacker Logan Wilson pushing the ball and Sam Hubbard recovering and returning it for a touchdown. According to Next Gen Stats, Huntley was less than 2 feet from the touchdown.
«It will be difficult, because we have [the] out of season now,» he said when asked if it would be hard to put the play out of his mind. It's going to be tough, but I think that will motivate me to push myself, work hard and be ready for next year.»
BENGALS' SAM HUBBARD RUN OVER 17 MPH ON AMAZING FUMBLE RETURN FOR TD
The Ravens also had another solid chance late in the game.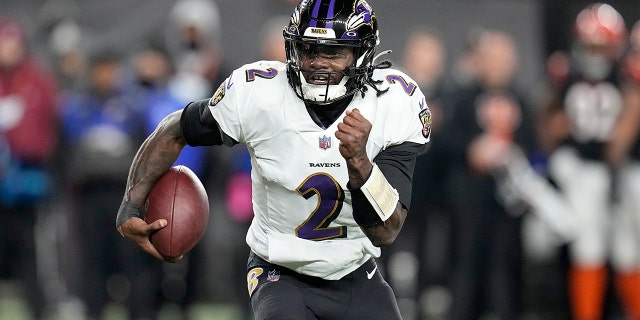 Huntley led Baltimore on a 10-play drive that got to the Bengals 27-yard line. He threw a last minute Hail Mary on 4 and 20 and was parried and almost fell into the hands of James Proche II.
Proche seemed to have some fingertips on the ball, but couldn't catch it.
CLICK HERE TO GET THE FOX NEWS APP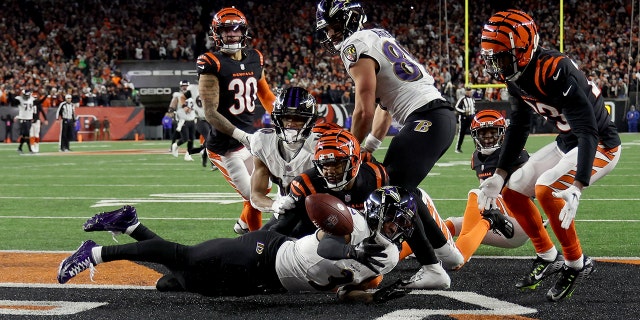 «I saw him tip over or something. Then I saw 'Pro' lunge at him. So, I was hoping someone would go down with him, but it just didn't happen,» Huntley added.