When Ken Griffey Jr. stepped into the batter's box, even opposing pitchers were in awe of his sweet swing. Apparently the Hall of Famer, now in his 50s, still hasn't lost touch with him.
It took some convincing, but Griffey, who is currently the hitting coach for Team USA, finally decided to do some hitting practice before the World Baseball Classic quarterfinal game against Venezuela.
Shortly after Griffey picked up a baseball bat, every player on Team USA stood around home plate to catch a glimpse of the iconic swing.
CLICK HERE FOR MORE SPORTS COVERAGE ON FOXNEWS.COM
Griffey is a seven-time Silver Slugger Award winner and last played in the Major Leagues with the Seattle Mariners in 2010.
He was named to 13 All-Star teams over the course of his storied career.
METS STAR EDWIN DIAZ SUFFERED EXTRAORDINARY INJURY IN WORLD BASEBALL CLASSIC, BUT TOURNAMENT IS FAR FROM 'MEANINGLESS'
The last time Griffey was on an All-Star team was in 2007, when several Team USA players were 12 and under. Pete Alonso was 12 years old, Kyle Tucker was 10, and Bobby Witt Jr. was seven years old.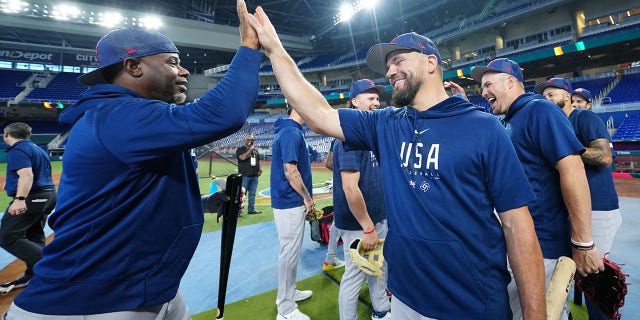 Growing up, most US players probably watched highlights of Griffey's swing, but when the former center fielder stepped up to the plate, they got the rare opportunity to see him hit pitches up close.
Several players had smiles on their faces as they gazed in awe at LoanDepot Park, the site of this year's Classic Baseball World Championship.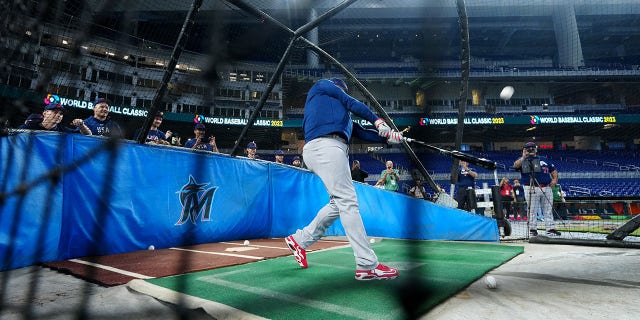 «The guys were putting a lot of pressure on him,» Los Angeles Angels outfielder Mike Trout told reporters. «We wanted to see him so badly. He said, 'Give me 10 swings, and I know I can hit one.'»
Griffey was showered with praise when he finished that hitting session with a home run.
CLICK HERE TO GET THE FOX NEWS APP
Team USA plays Venezuela on Saturday at 7 pm EST.