Carolina Panthers running back D'Onta Foreman said his actions in a fight with Marcus Davenport were «out of character.»
Foreman punched the New Orleans Saints defensive end after the two exchanged words after a play Sunday.
Davenport appeared to hit Foreman first, but the running back retaliated with an open hand to his face mask.
CLICK HERE FOR MORE SPORTS COVERAGE ON FOXNEWS.COM
Both were expelled for their role in the melee, and Foreman later apologized.
SANTOS PLAYERS, PANTHERS EXPELLED AFTER HITTING THEM IN THE HELMET
«To the organization, my teammates and our incredible fans, I sincerely and truly apologize for my actions in yesterday's game and for being unavailable,» Foreman said in a statement. "My actions were totally out of character. "I am deeply sorry for everything that happened and I assure you that it will not happen again. I love being a Panther and I wholeheartedly look forward to this journey together.»
Officials threw flags and called unsportsmanlike conduct on both players. Officials then ejected both players from the final game of the season.
Foreman was then seen yelling something across the field on his way out.
Carolina won the game, 10-7, with a field goal as time expired. The Panthers and Saints finished the season 7-10.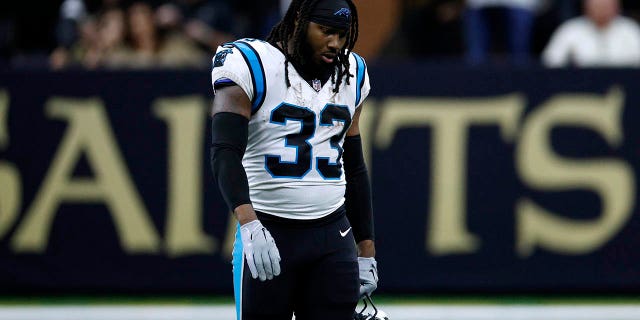 CLICK HERE TO GET THE FOX NEWS APP
Foreman became Carolina's best defenseman after the team traded Christian McCaffrey to the San Francisco 49ers. In 11 games after the deal, Foreman averaged 4.59 yards per carry (191 attempts, 877 yards) scoring five touchdowns.
Fox News' Ryan Gaydos contributed to this report.