No one will be able to take the gold medals from Michael Phelps (23, if you've counted), but his latest individual world record was broken by 21-year-old Frenchman Leon Marchand during the 2023 World Aquatic Championships on Sunday.
Phelps had the headphones on to call the 400-meter individual medley, for which he held the record at 4.03.84 which was set at the 2008 Beijing Olympics. Phelps won eight gold medals during those Olympics, breaking seven world records in the process.
Marchand ended up breaking the world record, finishing butterfly, backstroke, breaststroke and freestyle in 4.02.50 to win gold in Fukuoka, Japan.
CLICK HERE FOR MORE SPORTS COVERAGE ON FOXNEWS.COM
«That was crazy, one of the most painful things I've ever done,» Marchand said via the new york post office. «It was amazing to do it here and the timing is crazy.
«The best is yet to come.»
MICHAEL PHELPS SAYS LIA THOMAS CONTROVERSY IS 'VERY COMPLICATED', CALLS FOR LEVELING THE PLAYING FIELD
Phelps was seen on the winners' podium after the race and holding Marchand's hand in victory, accepting that he only saw history, and with it his final record falling from the top.
He did it with grace and a smile on his face.
«I'm excited about this bath. Oh my gosh!» Phelps was heard during the broadcast as he stood up and clapped as Marchand made his way to the pool wall to finish the race.
Marchand and Phelps have something in common besides their ability in the 400-meter medley. Bob Bowman, who coached Phelps during his swimming days, is Marchand's trainer.
American Carson Foster finished with silver in the race, while Japan's Daiya Seto took bronze, sending the home crowd into a frenzy when he came in third.
TRANSGENDER SWIMMING PIONEER DISMISSES 'BIOLOGICAL ADVANTAGE' FOR TRANS FEMALE ATHLETES, QUOTES MICHAEL PHELPS
Marchand is one of swimming's bright young stars who qualified for the 2020 Summer Olympics in Tokyo after setting the French record for the 400m individual medley in 4.09.65.
This one obviously blew it out of the water (no pun intended).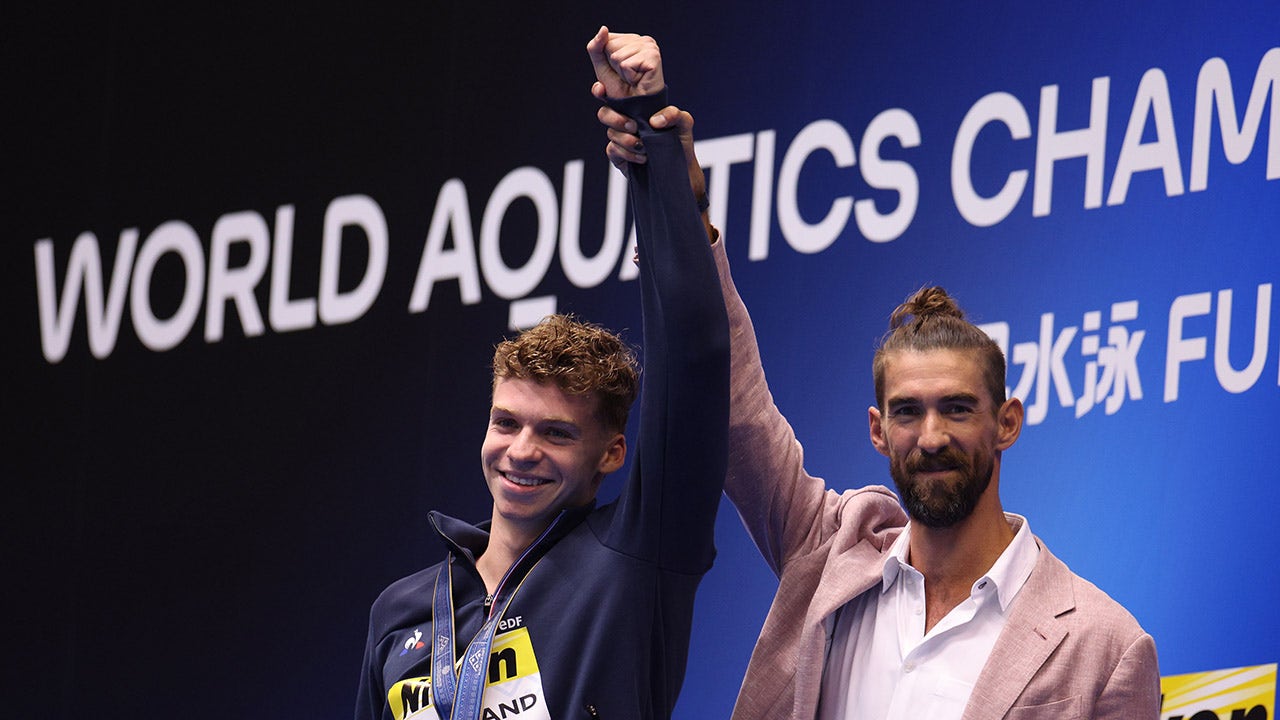 CLICK HERE TO GET THE FOX NEWS APP
He finished sixth in the same event during the Olympics, finishing below his personal best at the time in 4.11.16. He also participated in the 4×100-meter medley relay, 200-meter butterfly, and 200-meter individual medley.