Martin Truex Jr. dominated another Monday matinee to win at New Hampshire Motor Speedway for the first time in 30 Cup attempts in his career at the same track where as a child he watched from the stands as his father raced.
Thanks to rain postponements, Truex won his second Monday race of the season, also winning at Dover, and the fourth of his career.
Truex dominated in the No. 19 Toyota en route to his third win of the season. The Joe Gibbs Racing driver secured one of the few victories he desperately wanted in a career that could be drawing to a close. Truex, 43, the 2017 NASCAR Cup Series champion, said over the weekend that he was close to making a decision about his future: retire or return for another season at JGR.
CLICK HERE FOR MORE SPORTS COVERAGE ON FOXNEWS.COM
On the Magic Mile, it was simply time for an overdue celebration.
«This one has been eluding me for a long, long time,» Truex said.
Truex led with 15 laps remaining when JGR teammate Christopher Bell, last year's winner at New Hampshire, hit the wall for the eighth caution.
«We should have a company policy that says when one of your teammates is leading, you don't crash alone,» Truex said over the radio.
It didn't really matter to Truex. He pulled away from the restart with nine laps remaining and was able to savor victory, and soon enough, the 20-pound lobster that traditionally goes to the winner.
It's a perfect reward for Truex, who also grew up helping his father on his family's clam boat.
SEVEN-TIME CUP SERIES CHAMPION JIMMIE JOHNSON LEADS NASCAR HALL OF FAME NOMINATE CLASS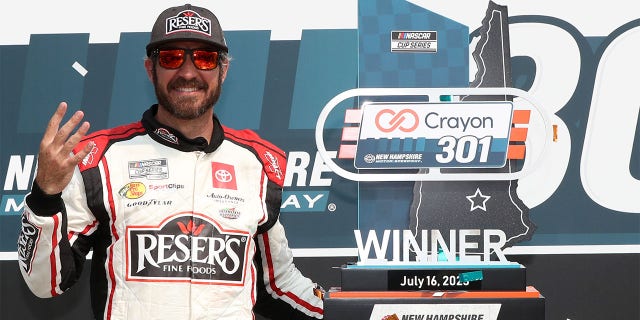 This victory was special. Truex accompanied him as a child to New Hampshire when his father raced here in the 1990s and got his first taste of the sights, smells and sounds of a NASCAR garage.
One memory stood out among the others: watching Dale Earnhardt play with his carburetor under the hood of his car.
«I just stood there in awe and watched,» Truex said over the weekend.
And as soon as Truex was able to race in New Hampshire, he won. Truex had just turned 20 when he won a regional stock car series race at the track. Very cool. Even better? His father finished fifth in the same race.
«This place is a big reason I got to where I am today,» said the younger Truex.
Truex found early success at Loudon once it transitioned to Cup in 2006, posting a third and a fifth in 2007 when the series still ran here twice a season and a fourth and seventh in 2008. He had six top-10 finishes. consecutive runs from 2016 to 2020 and led 172 laps from the pole last season before slipping to fourth. Truex said his JGR team «panicked» with a late call for two tires that failed and cost them the checkered flag.
BODYCAM CAPTURES THE FINAL SHOT OF THE APPARENT MURDER-SUICIDE OF NASCAR DRIVER JIMMIE JOHNSON, FATHER-IN-LAW AND NEPHEW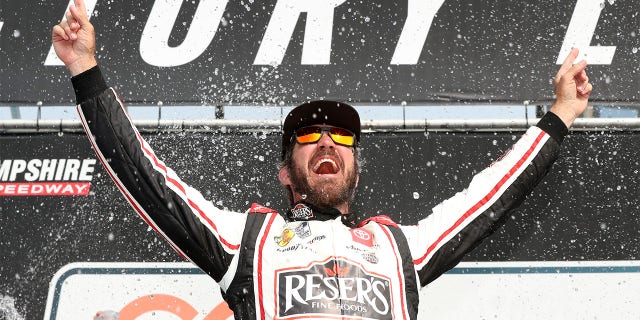 «It's one that I've wanted very much for a long time,» Truex said. «Maybe too much, I don't know.»
Like last year, Truex won the first two stages of the 301-lap race.
OTHER FINISHES
Joey Logano finished second. Kyle Larson, Kevin Harvick and Brad Keselowski rounded out the top five.
BUSCH'S EVIL
Kyle Busch was forced to drive his backup car after the No. 8 Chevrolet sustained damage in both practice and qualifying. Busch hit the wall early in the race and was forced out after 71 laps. The two-time Cup champion finished last. Busch has earned a win and finished in the top 10 in each of his last seven races.
«I've been lacking right rear grip the whole time we've been here,» he said. «I just couldn't feel the right rear end on the race track.»
CLICK HERE TO GET THE FOX NEWS APP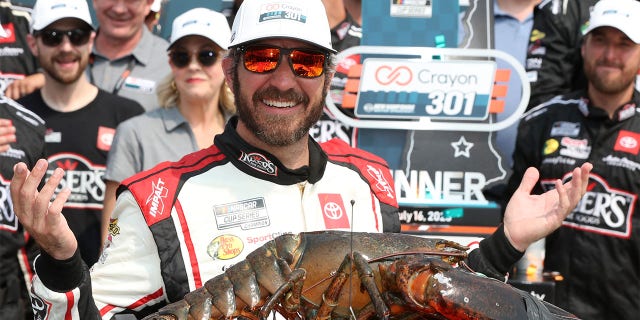 UNTIL NEXT TIME
The series shifts to Pocono Raceway, where Chase Elliott is the defending winner of the race, despite failing to finish first. Denny Hamlin lost his Pocono win and so did runner-up Kyle Busch due to failed inspections. Hamlin was the first disqualified winner since 1960.