Miami Heat star Jimmy Butler had all the smoke for Boston Celtics players Al Horford and Grant Williams on Sunday night as they dominated Game 3, 128-102.
Butler was on fire again and had Williams' business in the second quarter. Butler drove to Williams' rim and popped a faded shot into the basket. While his back was turned, he pointed directly at Williams, who had nothing to say other than let out a huge, frustrated sigh.
CLICK HERE FOR MORE SPORTS COVERAGE ON FOXNEWS.COM
However, Butler didn't finish as he targeted Horford next.
Butler put the Heat up by 23 points and mirrored Horford from Game 1, when he dropped to one knee and made a «T» shape with his hands to indicate the other team needed a timeout.
He finished with 16 points, eight rebounds, six assists and two steals. He was 5-for-13 from the field.
The Heat are one win away from an NBA Finals appearance.
LEBRON JAMES ACCIDENTALLY BLOODED REFEREE IN GAME 3: 'YOU'VE WANTED TO DO THAT FOR 25 YEARS'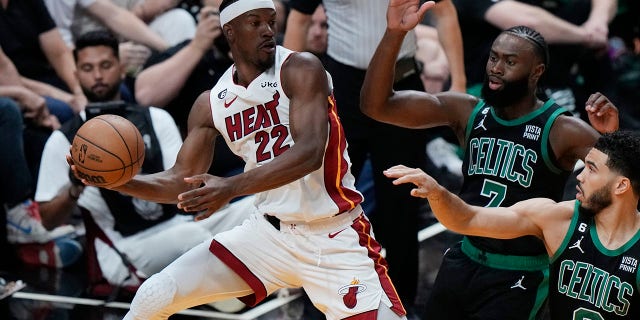 «That was a solid, mature, professional approach,» Miami head coach Erik Spoelstra said. «There's a lot of stuff piling up here and we're getting close, but we still have to get this over with.»
Gabe Vincent led Miami with 29 points and had three assists. Duncan Robinson added 22 points and four assists. He was 5-for-7 from 3-point range.
Boston's Joe Mazzulla regretted his training and preparation.
«I just didn't have them ready to play,» he said. «Whatever it is, whether it's the starting lineup or an adjustment, I have to put them in a better place, ready to play. That's up to me.»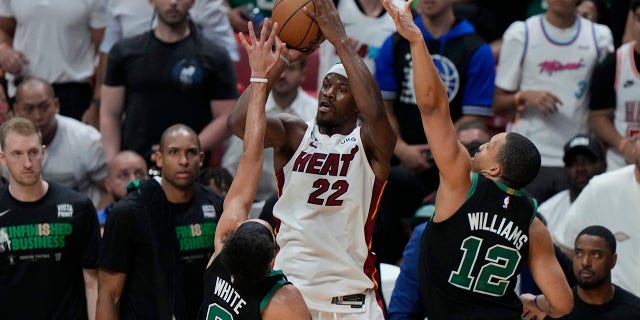 CLICK HERE TO GET THE FOX NEWS APP
Game 4 is scheduled for Tuesday night.
Associated Press contributed to this report.