Air Force football player Hunter Brown suffered a medical emergency on his way to class Monday and died, the academy announced Tuesday. He was 21 years old.
Brown, a sophomore center for the Lake Charles, Louisiana, Falcons, was on his way to class from his dorm room when he collapsed. Emergency personnel tried life-saving measures but were unsuccessful, the school said.
CLICK HERE FOR MORE SPORTS COVERAGE ON FOXNEWS.COM
«Hunter was a standout offensive lineman on the Falcon football team and was highly respected on his squadron,» Lt. Gen. Richard M. Clark, superintendent of the US Air Force Academy, said in a statement. «The entire The US Air Force Academy mourns his loss, and our hearts and condolences go out to his family, his squadron, and everyone who was touched by this incredible young man.»
Brig. Gen. Paul D. Moga, commanding officer of the cadets added: «It is with heavy hearts and deep sadness that I share with you that we have lost one of our own. He leaves behind friends, grieving teammates, a wing of grieving cadets and a broken family.»
GEORGIA PLAYERS EAT ON THE SIDELINE DURING TCU ROAD
Brown was part of the Falcons for the past two seasons. He was a management major and had a French minor. He was assigned to Cadet Squad 16.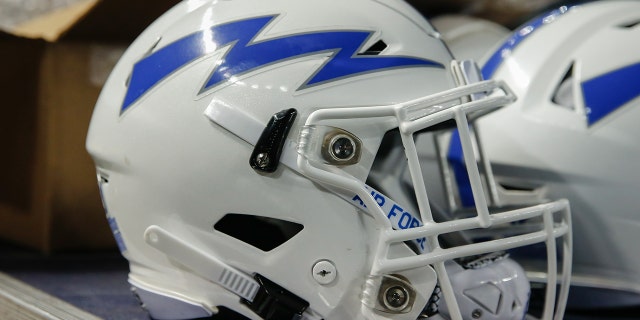 «Our players, staff and the entire Academy have been very blessed and fortunate to have Hunter as a part of our lives. It was a pleasure to coach him and have him as a teammate,» Air Force Coach Troy Calhoun said in a statement. «He was tough, a hard worker, and no one selflessly went out of his way for others than Hunter. His mom and dad, Candyce and Dustin, raised a wonderful son who made each of us a better person. We love our great brother and our thoughts and prayers are with the amazing soul of Hunter and his family.»
Brown starred at Barbe High School in Louisiana before joining the Air Force.
CLICK HERE TO GET THE FOX NEWS APP
Officials with the Air Force Office of Special Investigations and the El Paso County Sheriff's Office are investigating the death. The Air Force said it was standard protocol for any death on the base.