Two teams took the field in Columbus on Sunday night looking for their school's first Sweet 16 appearance in history.
The No. 9 seed Florida Atlantic Owls will be heading to New York for that, as they defeated No. 16 Fairleigh Dickinson, 78-70, to stop their Cinderella ride in the NCAA Tournament.
The FDU Knights came out hot in the second half, outscoring FAU 12-1 after being down seven to take a five-point lead. The game, a fast-paced fight between both teams, would go back and forth, but it was FAU that always had an answer for the Knights.
CLICK HERE FOR MORE SPORTS COVERAGE ON FOXNEWS.COM
Once the FDU started to fold, the FAU broke them.
In the final five minutes, it was Owls leading scorer Johnell Davis who took over and made sure his ticket was punched to the Big Apple. Davis hit two straight jumpers to put the Owls up 65-58, also reaching the line for two free throws.
FAIRLEIGH DICKINSON COACH RIVAL INELIGIBLE FOR NCAA TOURNAMENT ON KNIGHTS' SUCCESS: 'I'M HAPPY FOR THEM'
Demetre Roberts, who put on a great second-half show to lead the FDU Knights, cooled off a bit down the stretch. And after a great 3-pointer from Bryan Greenlee to put FAU up eight, Davis got a steal on FDU's ensuing drive.
FDU never quite as Ansley Almonor hit a 3-pointer to cut the lead to six, but FAU eventually made two more free throws and held on for the win.
Davis finished the game with 29 points and 12 rebounds for a double-double, while playing well on the defensive end as well. He had five steals to lead his team.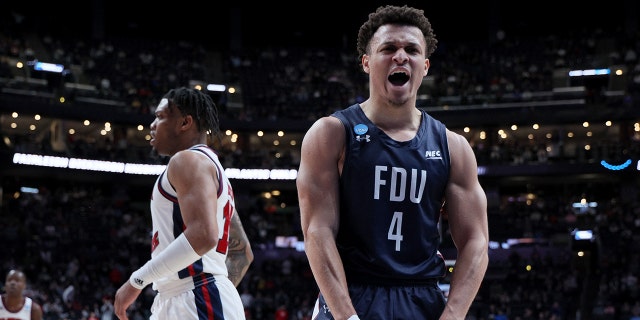 Alijah Martin scored 14 points for the Owls, while eight total FAU players scored in this game. They're a deep team that gets input from all sides, which is why they were able to run at FDU's hyper-aggressive pace all night.
Roberts was 8 of 22 from the field for 20 points, but he missed 10 of his 12 3-point attempts, which could have made a big difference. FDU also struggled to start the game as they missed some easy shots at the rim.
FLORIDA ATLANTIC DRILLS CUBE WITH 2.5 SECONDS TO ADVANCE IN MARCH MADNESS OVER MEMPHIS
Sean Moore, the Knights' Swiss Army knife in the big upset over No. 1 seed Purdue on Friday, had 14 points while Joe Munden Jr. had 13 on 5-of-11 shooting from the field.
The Knights were trying to become the first team to make the Sweet 16 as a No. 16 seed. Although they came up short, they made history as the second team to beat a No. 1 seed to advance in the tournament. It was also the first Northeastern Conference win in the tournament by either team.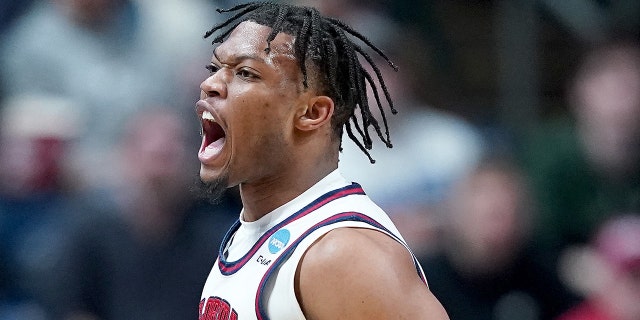 CLICK HERE TO GET THE FOX NEWS APP
In the end though, FAU, a team that is 32-3 on the year and is on a roll, will prepare to face No. 4 Tennessee as they hope to keep their Cinderella dreams alive on Thursday.