A great moment for Team USA in Tuesday night's World Baseball Classic against Team Japan nearly resulted in catastrophe for a fan trying to catch a home run ball.
USA's Kyle Schwarber rocketed to right field off Japan's Yu Darvish to cut the lead to 3-2 in the top of the eighth. The fans on the second floor were ready to catch the home run ball.
A fan in the front row almost went too far.
CLICK HERE FOR MORE SPORTS COVERAGE ON FOXNEWS.COM
The fan, dressed in a dark T-shirt and beige hat, jumped up to try and catch the ball. And he almost flew over the railing.
Fortunately, he held on to the front rail as the fans around him cheered for Schwarber's home run.
SHOHEI OHTANI STRIKES OUT LOS ANGELES TEAMMATE MIKE TROUT TO GIVE HIM THE JAPAN WORLD BASEBALL CLASSIC TITLE OVER USA.
Because of the importance of the home run in the WBC final, fans were clearly willing to take risks to get the ball.
And we've seen this before. New York Yankees slugger Aaron Judge hit his AL-record 62nd home run at Globe Life Field in Arlington, Texas last season. While a fan in the left field front row caught the ball, another fan rolled over the front rail hoping the ball would bounce off the fans and land below.
That fan was eventually kicked out of the stadium.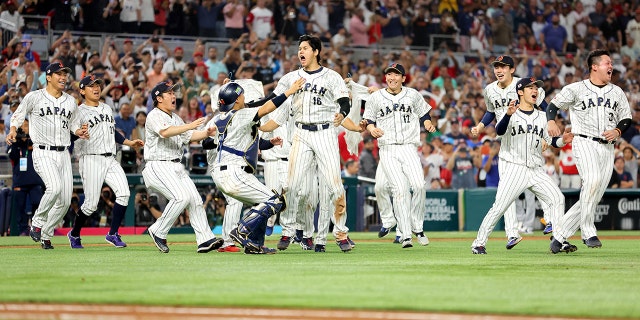 The WBC final had a fantastic ending. Shohei Ohtani and Mike Trout, teammates from the Los Angeles Angels and widely considered the two best baseball players in the world, met in the top of the ninth inning with two outs and Team USA trailing one.
CUBAN BASEBALLER DEFECTS AFTER TEAM LOSS TO UNITED STATES IN WORLD BASEBALL CLASSIC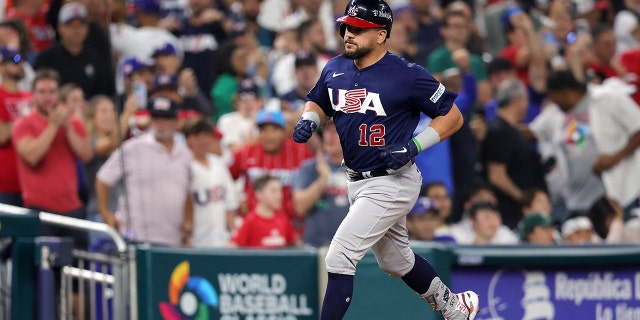 CLICK HERE TO GET THE FOX NEWS APP
Trout struck out on a 3-2 slider by Ohtani, who clinched the win for Japan and went on to win the WBC MVP award. It was the first time the two had met in a game.