Washington University first baseman Will Simpson admired his two-run home run too much for the umpires' liking, who ejected him from their game against Santa Clara University on Monday.
In the top of the sixth inning, Simpson hit a bomb to left field to tie the game at six between the Huskies and Broncos. Video of the home run captured Simpson's entire run around the bases, leaving many wondering why he was thrown out.
As Simpson hits the ball, he begins to run down the first base line, eyeing the ball while still holding his bat. He eventually flipped the bat before beginning to round the bases.
CLICK HERE FOR MORE SPORTS COVERAGE ON FOXNEWS.COM
Perhaps Simpson's prolonged grip on the bat with the flip was what led the umpires to pull it out. But it wasn't an exaggerated bat toss before he got to first base.
BROWN UNIVERSITY FRESHMAN OLIVIA PICHARDO MAKES HISTORY AND BECOMES THE FIRST WOMAN ON DIVISION I BASEBALL ROSTER
The other part of the celebration that could have sent the umpires over the edge came as he was about to reach third base. Simpson ran his hand under his T-shirt where Washington is spelled out in purple letters. He made the move as he looked at his bench.
Finally, Simpson shakes hands with his third base coach, meets his teammates at home plate, and begins to celebrate in the dugout.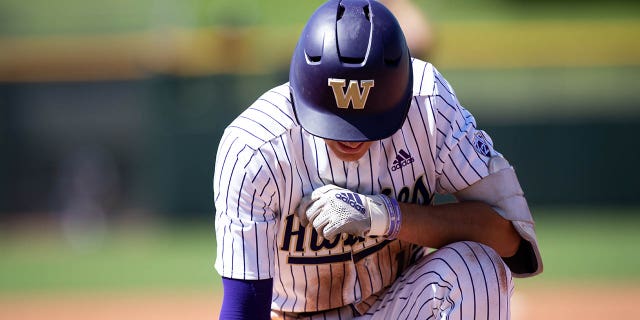 The Huskies had to find a replacement at first base for the remainder of the nine-inning game.
DEION SANDERS ON HIS FIRST YEAR EXPECTATIONS IN COLORADO: 'WE WILL NOT SETTLE FOR MEDIOCRITY'
To make matters worse, Simpson is also facing a suspension for being ejected in a game, per NCAA rules. As of now, Simpson will not be able to play San Jose State on Thursday, the start of another four-game road trip for the Huskies.
The ejection came in Washington's fourth game against Santa Clara of President's Day weekend. The Huskies went home with two wins and two losses.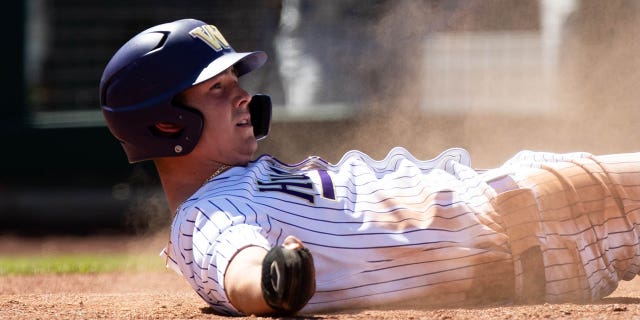 CLICK HERE TO GET THE FOX NEWS APP
Simpson went 5-for-19 in his at-bats, hitting a double and two home runs with four RBIs in the series.