It's hard to beat a team three times in the same season, but the Philadelphia Eagles did it with ease on Saturday night.
The New York Giants were out for revenge, having lost both of their games against Philly in the regular season.
However, Lincoln Financial Field remains a house of horrors for Big Blue.
The Eagles dominated from start to finish, en route to a 38-7 win. It was the Giants' 10th straight loss in Philadelphia.
CLICK HERE FOR MORE SPORTS COVERAGE ON FOXNEWS.COM
This was all Eagles from the get-go. Dallas Goedert opened the scoring with a 16-yard touchdown run, and on the ensuing drive, the Giants went for it on fourth and eighth. Daniel Jones was sacked and the Eagles converted it for seven more points.
After forcing a 3-and-out in the second quarter, Giants killer Boston Scott scored again against Big Blue, and it was 21-0 halfway through the second quarter. Just before the half, Jalen Hurts was able to score and Philly was up 28-0 at the half.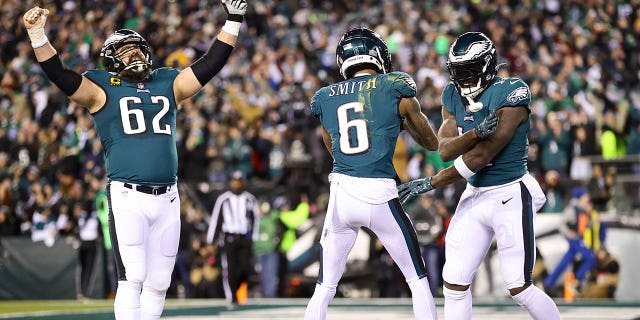 LAS AGUILAS FANS FIND PARKING VACANT AT BACK DOOR FOR 12 HOURS
On the Giants' first six drives, they had 68 total yards. They won 88 on their scoring drive in the third quarter: Matt Breida found the end zone. However, on their next drive, 4th and 6th near midfield, they opted to punt rather than try.
Philly, already dominating the running game, was able to use plenty of time to finish the game. In fact, they were able to waste about eight minutes of the fourth quarter on a drive that ended in a field goal.
The Eagles rushed for 268 yards: Kenneth Gainwell rushed for 112 and a touchdown, Miles Sanders added 90, Hurts rushed for 34, and Scott had 32. Goedert and Devonta Smith combined for 11 receptions for 119 yards and two scores, as did Hurts. . 16 of 24 with 154 yards. The Eagles defense also sacked Jones five times.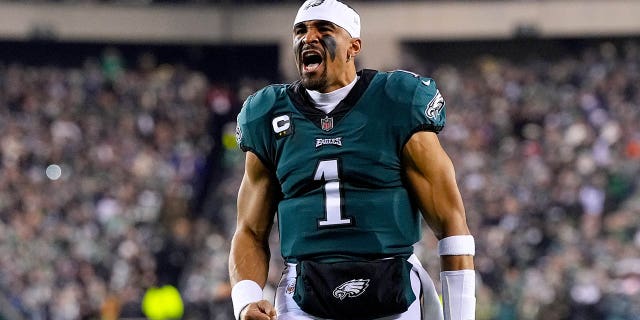 CLICK HERE TO GET THE FOX NEWS APP
The Eagles now await the winner of Sunday's matchup between the Dallas Cowboys and the San Francisco 49ers.