philadelphia eagles Defensive end Brandon Graham received a hefty fine this weekend for unsportsmanlike conduct in the NFC Championship game, a game that proved costly for both the Eagles and the San Francisco 49ers.
The 34-year veteran was fined $13,261 for unsportsmanlike conduct in the Eagles' 31-7 win over the nine, NFL Network reported on Sunday.
The penalty was not awarded in the game last weekend.
49ers' TRENT WILLIAMS SENT OFF AFTER HITTING EAGLES PLAYER IN FIGHT, BENCHES CLEAR IN RESPONSE
But the title game turned out to be an expensive effort for both teams with several players being fined, including the 49ers' All-Pro left tackle. trent williams who was ejected late in the fourth quarter for throwing Eagles safety K'Von Wallace to the ground.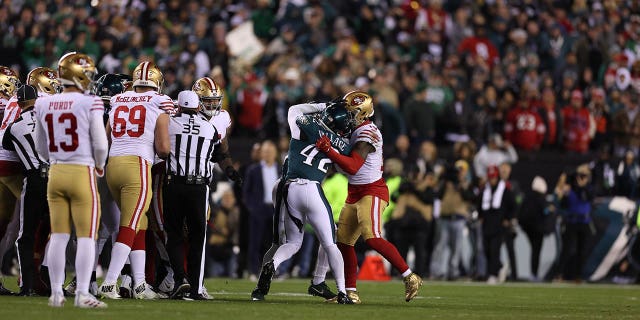 CLICK HERE FOR MORE SPORTS COVERAGE ON FOXNEWS.COM
The incident stemmed from a fight between 49ers catcher Deebo Samuel and Wallace, who grabbed their face masks after one play. With both refusing to let go, several players stepped in to break it up and that's when Williams grabbed Wallace from behind and tackled him to the ground.
Williams and Wallace were ejected, but Williams was fined $12,731.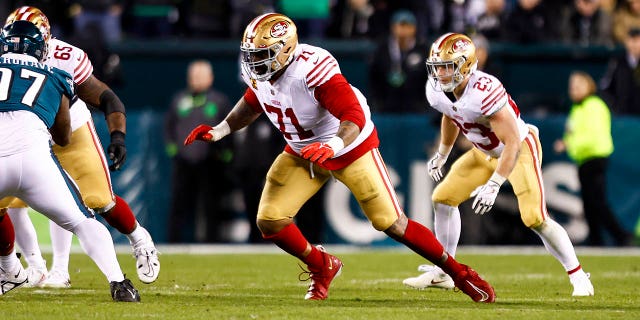 CLICK HERE TO GET THE FOX NEWS APP
According to The Athletic's Matt Barrows, five other 49ers players were fined separately from that incident, totaling $48,372 in fines.
Two other Eagles players, in addition to Graham, were also fined in the NFC title game totaling $30,247, according to the report.