The DC Defenders clinched a win over the St. Louis BattleHawks in their Week 3 XFL matchup, but it didn't come without some controversy late in Sunday's game.
Defenders defensive lineman Davin Bellamy sacked BattleHawks quarterback AJ McCarron to put the finishing touches on the game. But when the players were returning to the touchline, a fight broke out and it was necessary to separate the players from both teams.
CLICK HERE FOR MORE SPORTS COVERAGE ON FOXNEWS.COM
Several flags were thrown and the officials had to make sure that the players did not go off the touchline to keep the fight inflamed.
Three players were ejected from the game before the final whistle, according to Touchdown Wire.
DC would hold on for a 34-28 victory to improve to 3-0 on the season, while St. Louis fell to 2-1.
XFL QUARTERBACK TELLS TEAMMATE TO 'SHUT THE SHIT' AFTER TRYING TO CALL PLAYS IN THE HUDDLE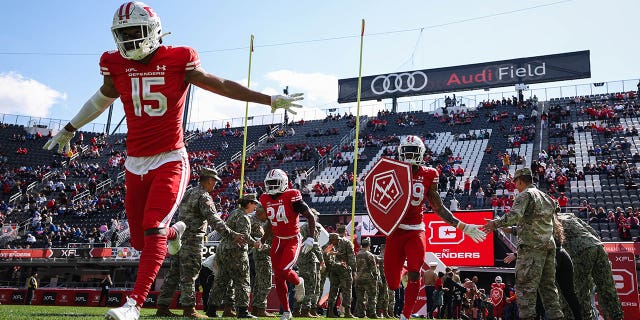 The Defenders won double digits, but the BattleHawks fought back and made it a close game.
Defensemen quarterback Jordan Ta'amu was 11-for-20 with 196 passing yards and a touchdown pass. He also rushed for 22 yards and a touchdown as well. D'Eriq King also had a touchdown pass in the game. He went 3 for 3 for 14 yards.
Chris Blair and Ethan Wolf caught touchdown passes for the Defenders. Lucky Jackson led DC with four receptions for 89 yards.
McCarron had a decent game aside from two interceptions. He was 26 of 42 passing for 262 yards and four touchdown passes. Hakeem Butler, Brian Hill, Jake Sutherland and Steven Mitchell each had the touchdown receptions.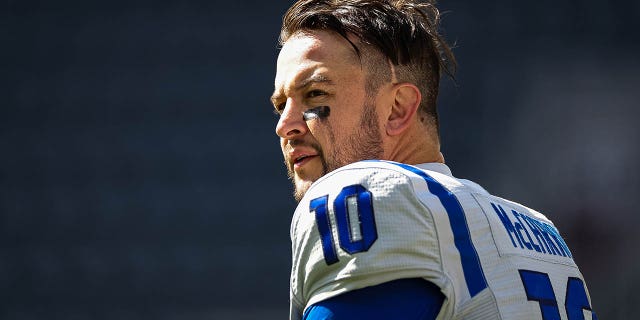 CLICK HERE TO GET THE FOX NEWS APP
Butler led the way with nine receptions for 105 yards.