Kansas City Chiefs Defensive end Chris Jones took a much different approach than Philadelphia Eagles defensive end Brandon Graham to the coin toss before Super Bowl LVII.
The viral, microphoned moment of the two sides meeting on the field at State Farm Stadium earlier this month was released over the weekend and showed just how great the seven year veteran he was heading to his third Super Bowl appearance.
«Love you, brother. Stay healthy,» quarterback patrick mahomes he could be heard saying as he hugs the Eagles players at the 50-yard line. «Congrats on being here, baby.»
CHIEFS STAR CHRIS JONES' INTERACTION WITH ROGER GOODELL RAISES EYEBROWS DURING SUPER BOWL CELEBRATION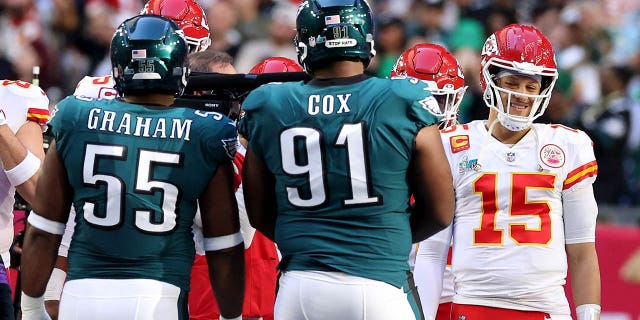 But Graham, playing in his second Super Bowl, began to sing.
«No one is afraid of everyone here,» he said. «All the guys go out five deep, we go three deep. What's right?»
CLICK HERE FOR MORE SPORTS COVERAGE ON FOXNEWS.COM
But Jones remained unperturbed.
«God bless you,» he repeated.
And the rest is history.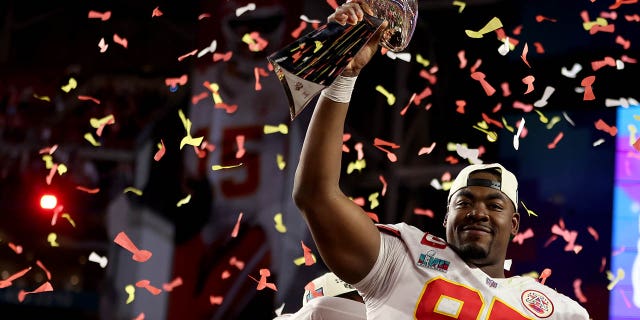 CLICK HERE TO GET THE FOX NEWS APP
Jones was recently named the AFC Defensive Player of the Year at the NFL 101 Awards for his dominant performance in the 2022 season, where he was a first-team All-Pro and received his fourth Pro Bowl nomination.
With 44 total tackles, 15.5 sacks, 29 hits to quarterback and two forced fumbles, Jones finished third this year in voting for the AP Defensive Player of the Year award.