Isaiah Mobley had 28 points and 11 rebounds, and the Cleveland Cavaliers captured the NBA Summer League championship with a 99-78 win over the Houston Rockets on Monday.
This was the Cavaliers' first title since the Summer League moved to a tournament format in 2013. Mobley was voted the game's MVP, which more than made up for not being selected to the All-Tournament Team.
«I try not to worry about things I can't control,» Mobley said. «Am I okay with that? No, but it is what it is. I'll take the championship all day.»
CLICK HERE FOR MORE SPORTS COVERAGE ON FOXNEWS.COM
Sam Merrill scored 27 points, shooting 6 of 12 3-pointers, and Emoni Bates added 19 points for the Cavaliers (6-0).
Nate Hinton led Houston (5-1) with 18 points and 10 rebounds. Three other Rockets also scored in double figures: Cam Whitmore (14), Trevor Hudgins (13) and Fletcher Magee (10). Whitmore was voted tournament MVP.
Mobley, a second-round pick in 2022, finished strong in the Summer League. He put the Cavaliers in the title game by scoring 23 points and hitting the game-winning shot in overtime to beat the Brooklyn Nets 102-99 on Sunday.
Voted First Team All-Tournament, Merrill has a history of playing well at the Thomas & Mack Center. His 3-pointer with 2.5 seconds remaining gave Utah State the 2020 Mountain West tournament championship, one of the last shots in college basketball before the COVID-19 shutdown.
RIC FLAIR RIPS TO NBA PLAYERS THAT 'WHINE AND B—H' DRAW A GREAT CONTRAST TO PROFESSIONAL WRESTLERS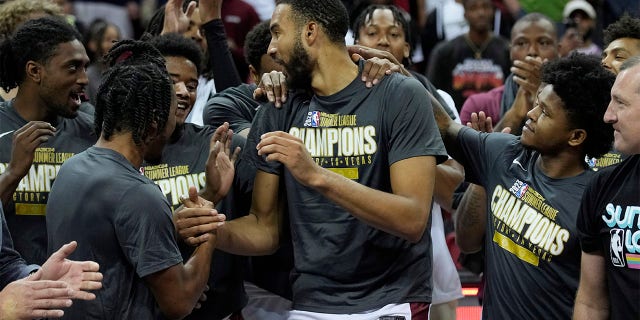 «It's a great stadium,» Merrill said. «I've played it more than anywhere besides (Utah State's). It's good to know the locker room and feel comfortable, and obviously we had a lot of success here.»
On Monday, the Cavaliers took control early by taking a 17-4 lead. Houston went on a 19-4 run to cut the margin to 41-38 late in the first half.
But then Cleveland scored the first 11 points of the second half to take a 62-44 lead, and the outcome was never seriously in doubt after that.
CLICK HERE TO GET THE FOX NEWS APP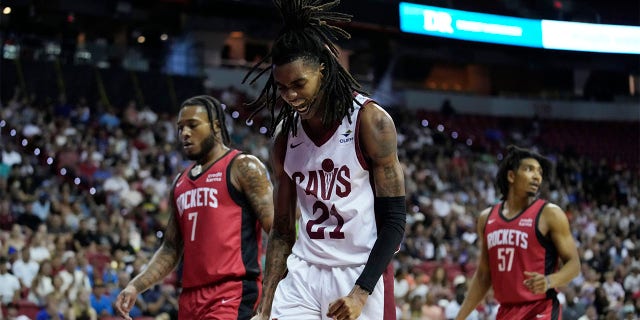 «I felt like if we came together, we were going to make a run (in the second half),» Hinton said. «They took some tough shots and some great shots, so I thank those guys for taking those shots.»
In addition to Whitmore and Merrill, the All-Tournament First Team consisted of the Utah Jazz's George Keyonte, the Miami Heat's Orlando Robinson, and the Denver Nuggets' Hunter Tyson.
The second team was Bates, Max Christie of the Los Angeles Lakers, Javon Freeman-Liberty of the Chicago Bulls, Xavier Moon of the Los Angeles Clippers, Jabari Smith Jr. of the Rockets, and Jalen Wilson of the Nets.