Snow piled up on foot over the weekend on California's mountain peaks and passes, closing roads for avalanche control work, congesting traffic and forcing at least one ski resort, Sierra at Tahoe, to cancel. his Monday operations despite «legendary» driving conditions.
California snowpack is on track for a remarkable season after nearly three weeks of atmospheric river storms hit California with heavy rainfall. Each region of the Sierra Nevada has more than 200% of its typical snow cover for this time of year.
«Epic levels,» state climatologist Michael Anderson said at a news conference Monday. «We're on pace ahead of the record-breaking '82 and '83 pack.»
That means the state's snowpack, which typically accounts for about 30% of its water supply, is the highest on this date since record-keeping began in 1950.
California's abundant snowpack should help alleviate some of the state's drought concerns this summer, but it also raises the possibility of spring flooding as all stored moisture melts.
«It sets the stage for potentially dealing with flooding issues as we move into the snowmelt season, something to be aware of,» Anderson said. The likelihood of spring flooding will depend on how much snow accumulates later this winter.
The current barrage of storms is expected to end this week. California has had nine atmospheric river storms since Christmas, Anderson said. A 10th Wednesday is expected, but it is much weaker and will not produce as much impactful precipitation.
«We are finally getting over the storm parade,» Anderson said. «We're starting to see the rivers break through the final crests and start to recede.»
Impacts from the storm were felt across the state on Monday. Rescuers were able to save a person trapped by floodwaters in Otay Lakes, near San Diego, on San Diego County Fire Protection District saying. Meanwhile, a mudslide closed part of State Route 13 in the Oakland area, said the state Department of Transportation.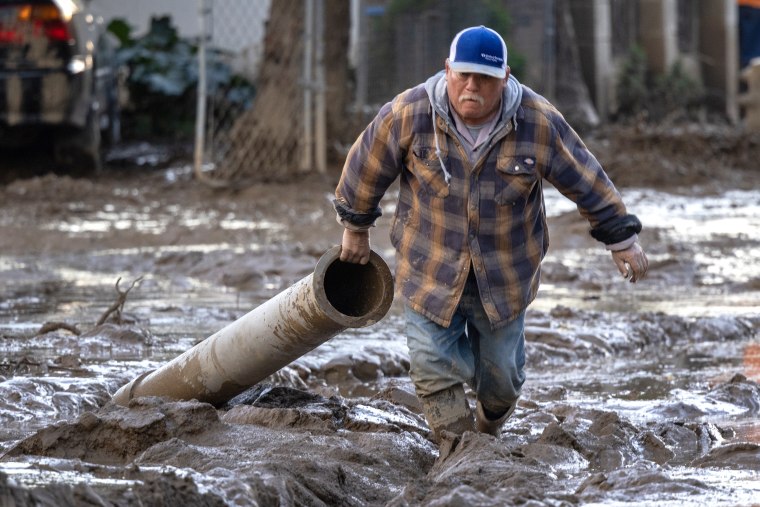 Anderson said forecasters are calling for dry weather in California for the next two weeks, giving the state a chance to dry out after heavy rainfall continued to crumble infrastructure and force bailouts over the weekend.
A video shared Saturday in Pescadero showed a rain-soaked hillside collapsing, causing part of its paved road to slide down a ravine.
Several areas of Coastal Highway 1 were unstable or buried by landslidesthe Department of Transportation tweeted.
Rescuers in Orange County pulled a man out of a storm channel Saturday nightone of several storm-related rescues reported in the state.
Weeks of seemingly continuous rain and snow have taken a significant toll on the state.
The California Geological Survey counted at least 402 landslides since Dec. 30, and at least 19 people have died from the severe weather. Officials are just beginning to assess cleanup timelines.
The Ventura County Sheriff's Office reported that debris had accumulated about 40 feet high on a canyon road. I was hoping that I could take up to three weeks to clear the road and up to six months for repairs.
President Joe Biden declared Saturday that a a great disaster had struck Californiamaking federal disaster funds available to people in the hardest-hit counties of Merced, Sacramento and Santa Cruz.
Biden previously made an emergency declaration for the state, approve federal emergency aid in 17 counties.