Buffalo Bills star Stefon Diggs stayed up Wednesday night watching Power Slap League and seemed in awe of what he was seeing.
The Power Slap League, whose start was delayed a week after the controversy over Dana White allegedly beating his wife on New Year's Eve in Mexico, debuted on TBS.
Diggs was watching the slapping match between Kortney Olson and Sheena Bathory and was shocked.
CLICK HERE FOR MORE SPORTS COVERAGE ON FOXNEWS.COM
«What am I watching? I never watch TV anymore, just Netflix and this is what's on TV, Jesus Christ,» he captioned his video. «Is this a real sport?»
Diggs can be heard commenting on what he was watching as he tuned in from his bed.
EAGLES' JAKE ELLIOTT BACKS OFF CHEATING ALLEGATIONS: 'COMPLETELY LEGAL'
«No, this is some crazy shit right here. They're right here beating each other up. Look at this right here… Oh my God!»
WARNING: EXPLICIT LANGUAGE
Bathory won the slap fight with a vicious slap to Olson. The Bills wide receiver also watched Joe Kennedy defeat Wesley Drain.
Diggs and the Bills are preparing for a divisional round rematch against the Cincinnati Bengals, weeks after the teams' regular-season game was canceled due to Damar Hamlin's on-field collapse.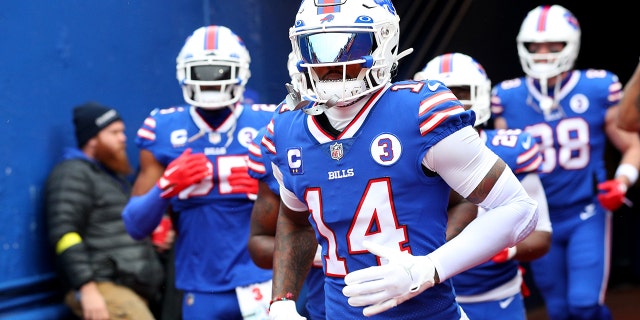 CLICK HERE TO GET THE FOX NEWS APP
Against the Miami Dolphins, Diggs had seven catches for 114 yards as the Bills won the game 34-31.