Buffalo Bills quarterback Josh Allen set a new record Sunday when his team beat the Miami Dolphins, 34-31.
Allen was 23 of 39 from the field with three touchdown passes and two interceptions. He had touchdown passes to Gabe Davis, Cole Beasley and Dawson Knox in the win. Allen's first touchdown pass was to Knox in the first quarter, and he broke a mark originally held by Dan Marino.
CLICK HERE FOR MORE SPORTS COVERAGE ON FOXNEWS.COM
It was Allen's 11th straight game with multiple touchdown passes against the Dolphins. It was the most by any player against an opponent of all time, including the postseason, according to ESPN Stats & Info and the Elias Sports Bureau. Marino had 10 straight multi-touchdown passing games against the New York Jets.
Allen found tight end Knox for a 6-yard touchdown run to go up 7-0 early. It was the fifth straight game with a touchdown reception for Knox. He joined Eric Moulds, Steve Johnson and Lee Evans for the most consecutive games of at least one receiving touchdown in team history, according to ESPN Stats & Info.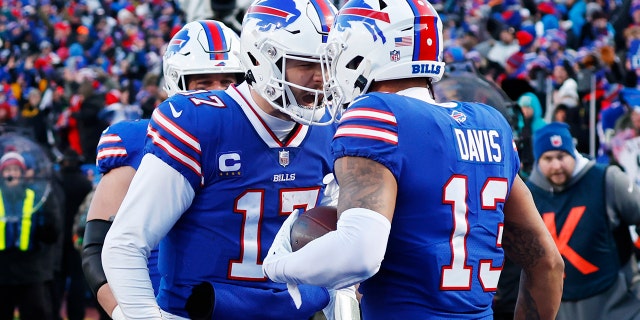 BILLS' JOSH ALLEN INVOLVED IN SCRIME WITH DOLPHINS' CHRISTIAN WILKINS IN PLAYOFF GAME
He would later find Beasley for a 6-yard TD pass to regain the lead. He then darted Davis on a 23-yard touchdown run to get some margin.
Allen needed to cut down on early turnovers to keep Miami at bay. Along with the two interceptions, he had a fumble that resulted in a game-starting touchdown and score.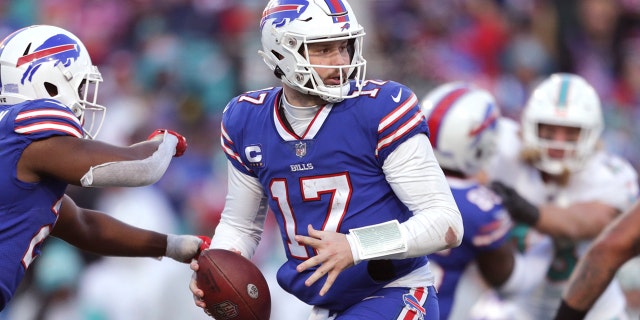 CLICK HERE TO GET THE FOX NEWS APP
«It's a one-week season, that's all,» Allen said. «All that matters is surviving and moving forward.»
Associated Press contributed to this report.