Josh Allen and the Buffalo Bills held off the Miami Dolphins and won their wild card matchup on Sunday, 34-31, at Highmark Stadium.
Allen needed two touchdown passes in the third quarter and stopping errors to get back on top after going up 17-0 early in the second quarter. Buffalo's defense also had to stop a Miami offense that was making big plays down the stretch.
The star quarterback finished 23 of 39 with 352 passing yards and three touchdown passes. He also had two interceptions and lost a fumble that resulted in a touchdown. Two Buffalo wide receivers also surpassed 100 receiving yards.
CLICK HERE FOR MORE SPORTS COVERAGE ON FOXNEWS.COM
Stefon Diggs had seven receptions for 114 yards. Gabe Davis had six receptions for 113 yards and a touchdown. Devin Singletary led Buffalo with 41 rushing yards on nine carries.
On the other hand, Dolphins quarterback Skylar Thompson had 220 yards on 18 of 45 passes. He had a touchdown pass and two interceptions. Tyreek Hill had seven catches for 69 yards and Salvon Ahmed had three catches for 4 yards.
The Bills got off to a good start.
Allen found tight end Dawson Knox for a 6-yard touchdown run to go up 7-0 early. It was the fifth straight game with a touchdown reception for Knox. He joined Eric Moulds, Steve Johnson and Lee Evans for the most consecutive games of at least one receiving touchdown in team history, according to ESPN Stats & Info.
Running back James Cook would put the Bills up 14-0 with a 12-yard touchdown run. Cook finished with 39 rushing yards.
Buffalo got off to a hot start in the second quarter with Tyler Bass' 33-yard field goal to go up 17–0. Before the half was over, Miami would start its run.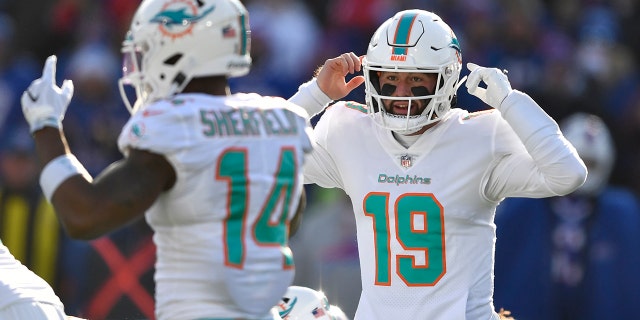 The Dolphins got three straight field goals from Jason Sanders to cut the lead to eight points. Thompson would then find Mike Gesicki for a 7-yard touchdown pass, and a two-point conversion would tie the game.
BILLS' JOSH ALLEN INVOLVED IN SCRIME WITH DOLPHINS' CHRISTIAN WILKINS IN PLAYOFF GAME
Gesicki would finish with two catches for 15 yards.
Buffalo would answer with another Bass field goal and took a three-point lead at the half.
The Dolphins took the lead briefly in the third quarter thanks to a fumble by Allen. The quarterback fumbled and defensive lineman Zach Sieler was on him. He picked up the ball and returned it for a touchdown, giving the Dolphins a four-point lead. That would be the last time they had it.
Allen would find Cole Beasley for a 6-yard TD pass to regain the lead. He would then dart Davis on a 23-yard touchdown run to get some margin.
Dolphins running back Jeff Wilson Jr. ran the ball into the end zone for a touchdown that cut the lead to three points. But Thompson was unable to get Miami within field goal range to tie the game on Miami's ensuing drive.
The Dolphins would turn the ball over on opportunities.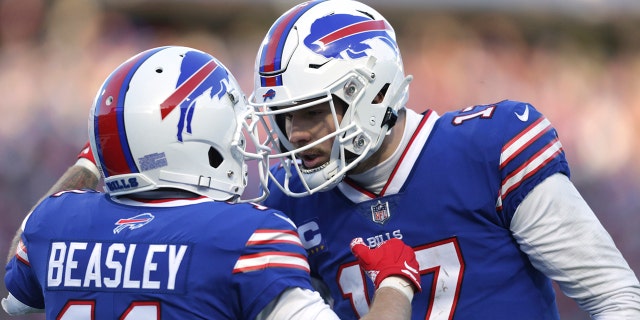 Buffalo is back in the divisional round of the NFL playoffs for the third straight season.
CLICK HERE TO GET THE FOX NEWS APP
Miami is still winless in the playoffs since the 2000 season.